---
This is a collection of my work - past and present, originals and prints. My prints are nearly as unique as the originals because I make them entirely myself and often hand finish each one. I paint in acrylics which suit my impatient nature and in watercolours if in more pensive mood. In black and white, charcoal is for impatience and black ink pens are for a love of detail. 
Daisy the History Doll books are the product of my other past lives and interests. I write and illustrate a new one each year for fun, as Daisy has lots of stories to tell. 
I hope you enjoy your visit to my site -if you have any queries do not hesitate to contact me . 
---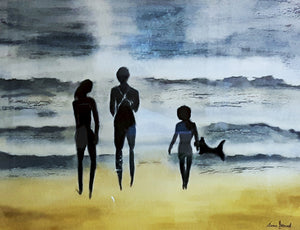 EVENING SWIM
An atmospheric watercolour20 x 16 ins framed