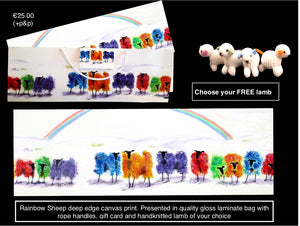 Rainbow Sheep Print (18x6ins) - November Special
This Print is the most popular in the "Sheep with Attitude" series and appeals  to all age groups from one to a hundred !
With a FREE, colour tipped, hand knitted lamb from the Pat Carey Animals Collection the canvas print is a winner as a baby gift. It will be the present that they love all their life. 
The lambs have been specially created to complement the 'Sheep with Attitude" series and come with ears and tail tipped in four different colours Just choose your favourite.
The matching presentation bag is a classy, heavy duty, laminated bag with rope handles. 
A gift card is included .
An unusual, ready to give present for any occasion.